Takamatsu, Kagawa Prefecture
Last weekend a friend from Tokyo came down to visit us here in Takamatsu. He only had a couple of days with us so we had to think long and hard about the best places to take him sightseeing. There a many beautiful scenic spots here in Kagawa but perhaps the most noteable is the Seto Inland Sea.
Fortunately, we live right in front of the inland sea so it was easy to show him the beauty of it from the comfort of our home.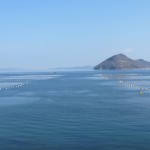 The view of the Seto Inland Sea from one of our balconies is pictured above.
The most famous sightseeing spot here would have to be Ritsurin Garden. An absolutely gorgeous park situated in the heart of Takamatsu. The appearance of the park takes on many different forms depending on the season. The colour of the foliage is highlighted throughout different periods of the year.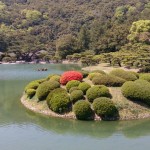 There is of course a hidden treasure here in Takamatsu. That is  Shikoku Mura. A kind of outdoor museum that plays tribute to old buildings and tools from all over Shikoku Island. Perhaps the best part is the fact that you have to follow a kind of course up, around and down Yashima. A little physically challenging for those of us who are unfit and unfortunately not wheelchair or pram friendly but a really beautiful way to enjoy Yashima.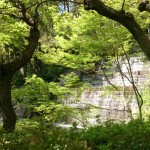 A waterfall at Shikoku Mura is pictured above.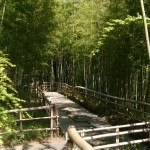 A bamboo garden at Shikoku Mura is pictured above.
Another interesting part of the outdoor museum was the Kabuki outdoor theatre. I am unsure as to whether or not it is still in use, however, I am sure one of our avid readers will be able to tell us. The theatre is pictured below.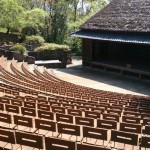 I think the scariest attraction was at the start of the course and that would have to be the rope bridge pictured below. There were huge gaps inbetween planks so I being a chicken went all the way around. It is crossable though.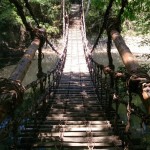 Admission to Ritsurin Garden is 400円. Admission to Shikoku Mura is 800円.
All in all my friend really enjoyed the sights and is looking foward to coming back again one day to check out some more of what Takamatsu has to offer.