◆Kangarooとは…
【英会話スクール】と【不動産】の会社です。
【英会話スクール】
One on One(個人レッスン)を中心に行っております。
お1人お1人の生徒様に合った充実した内容のレッスン、通いやすいスクールを目指しております。
各種洋書を取り揃えております。
【不動産】
「不動産のあるべき姿」を追及します。
外国籍の方の暮らしのご相談も承ります。
※物件案内から契約書、重要事項説明書まで宅地建物取引主任者が英語にて対応可能です。
We have an English speaking licensed real estate agent.
---
◆Suliana Tesi Nakamura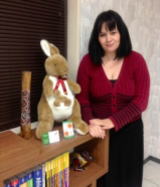 ◆自己紹介◆
私の名前はスリアナ・テシ・ナカムラです。2005年にオーストラリア、メルボルン出身。
5年間東京で英語講師として勤務し、2011年に結婚、高松へ。

◆学歴◆
メルボルン、La Trobe大学にて物理学と哲学を専攻、学士取得。

◆職歴◆
オーストラリア大手不動産会社で広報マネージャーとして8年勤務。東京の大手英会話学校で講師兼マネージャーとして勤務。
◆スリアナから生徒の皆様へ◆
2歳~86歳まで様々な生徒さんと日常英会話、ビジネス英会話、TOEIC、TOEFL、IELTS、英検、医療英語を教えていました。
多民族、多文化社会で育ったこともあり、英語を母国語としない方と話すのも得意です。
様々な経験から、一人一人に最も合った授業を提供できると確信しています。
リンク
オーストラリア、メルボルン↓
http://www.visitmelbourne.com/
La Trobe 大学↓
http://www.latrobe.edu.au/

◆PERSONAL INFORMATION
My name is Suliana Tesi Nakamura. I'm from Australia and have been living
in Japan since 2005.
I taught English in Tokyo for 5 years and moved to Takamatsu in 2011 after
getting married. I have two daughters named Maya and Emma.
◆EDUCATION
Bachelor of Science; Double Major in Physics and Philosphy from La Trobe
University Melbourne, Australia.
◆WORK EXPERIENCE
Before moving to Japan, I worked as an advertising manager for one of Melbourne's
leading Real Estate agencies for 8 years.
In 2005, I was employed by a major English Language school in Tokyo and
was promoted to a teacher's trainer 6 months later.
I transfered to Takamatsu , Shikoku in 2011 and taught English as a regular
English Instructor.
I have had experience teaching English to students from the ages of 2 to
86 in as many varying abilities. Conversational English, Business English
, TOEIC, TOEFL and English for young learners are my specialities and I
have also taught IELTS and medical English.
Unlike most foreign language teachers in Japan, I have had real business
experience and know how
to deal with clients, subordinates and management in everyday situations,
in sales, marketing and in problem scenarios. As such, I have an edge most
other teachers lack here in Japan.
Coming from a multicultural background and society, I have a keen ear for
non native English and am able to communicate well with those who have
a very limited English ability.
With management experience in teaching English as a foreign language, dedication
and devotion; I have the tools necessary to ensure that your learning experience
is the best there is to be had.